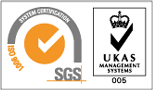 Acquisition of Quality management system ISO 9001 cretification in Head factoty, 2nd factoty, and 3rd factoty, and Nagoya Office, and Osaka Office.

We have acquired Quality management system ISO9001 2008 for Head factory and 2nd factoty in April 2013.
And 3rd factoty has been additionally registered it in December 2013.
We have acquired the transition certification of Quality management system ISO 9001 2015 in February 2018. And Nagoya office and Osaka office has been additionally registered.
Scope of certification registration: Design, development and manufacturing of industrial test equipments
Certification registration number:JP13/062494
"Offer of the product which always satisfies a customer"is KOKUSAI CO., LTD.'s motto. We assume 3 fundamental principles,"Pursuit of customer satisfaction", "Improvement of quality by technological innovation" in order to correspond diversified customer needs and "Contribution to society by company prosperity"

We maintain Quality Assurance system and its management system in order to correspond a customer demand and maximize a customer satisfaction.
We put the maximum priority to Safety and Quality.
We aim to become world No1 Company of Quality, Productivity and Cost competitiveness in the industrial test equipment.